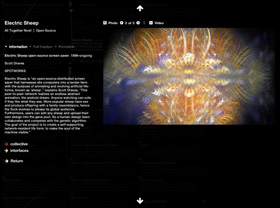 On the web, MoMA's Design and the Elastic Mind.

Winner of the ZKM Cloud App Art Award in 2012.

Identity for SIGGRAPH 2008 .

Vida Primer Premio Ex Aequo 2001.

Prix Ars Electronica Honorary Mention 1993.
Awards
Scott Draves' artwork has been winning awards since 1991 and has been exhibited all over the world. Recent exhibitions include the projection of Draves' limited edition fine art animated work "Dreams in High Fidelity" in the "tube" entryway at the 3 Legged Dog Art and Technology center in downtown Manhattan.
The Electric Sheep network is permanently featured on the website for New York's Museum of Modern Art.
Draves' image Dream 191.14533 was chosen as the graphic identity for the 2008 SIGGRAPH Conference on Computer Graphics and Interactive Techniques, themed "Evolve".
2015.09 Lumen Prize, Electric Sheep receives Founder's Prize
2012.07 ZKM App Art Award winner for Cloud Art.
2011.11 Celeste Prize finalist.
2010.05 FILE Prix Lux finalist.
2010.03 Lumen_Ex digital art competition, 2nd Prize.
2009.07 GECCO art competition, Critic's award.
2008.02 Website for Design and the Elastic Mind at MoMA.
2007.08 Siggraph announces 2008 conference-wide graphic identity based on Electric Sheep.
2007 Domefest, Harmony Channel Award and Director's special spirit award
2005.04 Electric Sheep nominated for Webby Award, New York City.
2004.02 Electric Sheep Jury Recommendation from ACA Media Arts Festival, Tokyo.
2001 Vida/Life 4.0, Primer Premio Ex Aequo
1999 Vida/Life 2.0, Prix du Public, 3rd place by the jury
1996 Bomb wins 2nd place in the Prix du Public at Bit.Movie, Italy.
1993 Prix Ars Electronica, Honorary Mention