Awards
Exhibitions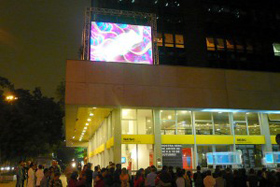 Generativa at SESC Paulista, Sao Paulo Brazil.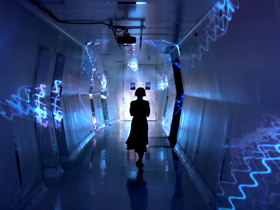 Video of show at the 3 Legged Dog Art and Technology Center in downtown Manhattan in July 2008. Photo by Mike Este.
Installation in Second Life with Somatika Xiao.
Exhibitions
2011.11 "The Firebird" OAF Film Festival, Seoul Korea.
2011.10 Two-person show at Able Fine Art, Chelsea, New York.
2011.08 LACMA, "Expanded Abstraction" in the central courtyard (curated by the Center for Visual Music).
2011.06 GAFFTA, Future Canvas, show of iPad art, San Francisco.
2011.05 Solo show at Devotion Gallery, Brooklyn New York.
2010.08 BBC Big Screens (19 Jumbotrons) via the Streaming Museum, UK.
2010.07 Chelsea Art Museum, Poetics of Code, New York.
2010.06 Generation 243 at Digital Art @ Google: Data Poetics, New York.
2010.06 25 Projector Installation at TEDx Balaton, Hungary.
2010.04 Dreams in High Fidelity II at HybridArt.ru, Moscow Russia.
2010.03 Two-person show at Michael Berger Gallery, Pittsburgh.
2008.10 Electric Sheep shown at Generativa (outdoor), SESC Paulista, Sao Paulo Brazil.
2008.07 Dreams in High Fidelity at 3LD Art and Technology Center, Manhattan.
2008.05 The Firebird on Great Wall of Oakland (California), 50' projection, Public art.
2007.11 Dreams in High Fidelity at Queens Museum of Art for Burning Man Decompression.
2007.05 Dreams in High Fidelity in Love's Secret Domain at 3rd Ward, Brooklyn.
2007.04 Star Oasis in Visual Music Marathon, Northeastern University, CyberArts Festival, Boston.
2006.10 Dreams in High Fidelity in Piksel, Bergen Norway.
2006.08 HiFiDreams in Siggraph Art Gallery, Boston.
2006.06 HiFiDreams in NY Digital Salon's Visual Music show, SVA Chelsea, New York City.
2006.06 HiFiDreams exhibited at International Animated Film Festival, Annecy France.
2004.08 Electric Sheep in Siggraph Art Gallery, Los Angeles.
2004.06 Electric Sheep in GenArt NewFangle exhibition, San Francisco.
2002.10 Electric Sheep exhibited at ArtFUTURA, Barcelona.