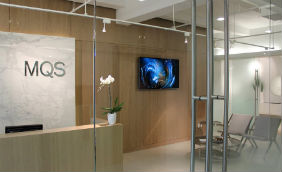 Generation 244 at the reception of MQS Capital in Manhattan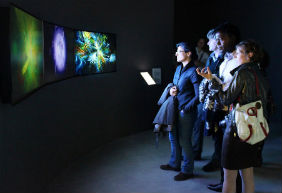 Generation 244 at Telefonica Headquarters, Madrid, 2012.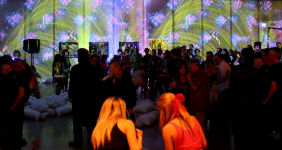 Generation 244 immersive projection at 21c Museum Hotel grand opening, 2013.
Generation Series
Generation 243, 244, and 245 are software paintings that illustrate the unknowable boundary between machine and human in Scott Draves' art. The infinitely playing, non-looping animation features high-resolution clips hand-picked by Draves from the thousands produced by the artificial life form he created, the Electric Sheep.
Members of the Generations series has seen installation in multiple forms, from immersive projections for events to intimate flat-screen displays. The artwork, which plays back on a display like video art but without looping, is the result over a centuries of individual computer processing time. The achievement of this work would only have been possible through the kind of distributed processing network made up of hundreds of thousands of computers that Draves has harnessed over the past decade.
The series is delivered on a self-contained computer.
Generation 243 (unique) sold for $2500, Generation 244 (edition of 2) sold out at $8,000, Generation 245 (edition of 2) sold out at $15,000.