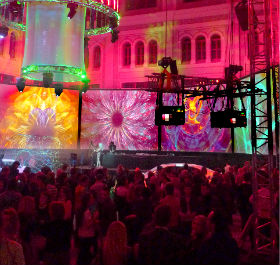 Four HD channels of 16,000 lumens each, 80 foot screen at Lexus Hybrid Art, Moscow 2010.04.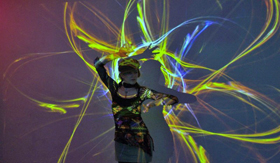 Projection on a dancer at Boston CybertArts Festival. Photo by Hannah Thiem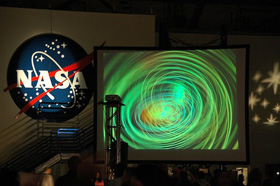 Electric Sheep projection at a Nasa event. Photo by Spacemansam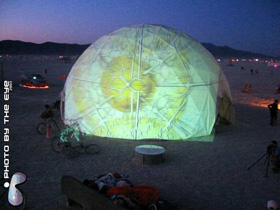 VJ projection inside Disorient's dome at Burning Man Festival.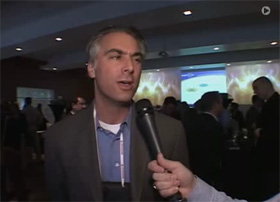 Dreams in High Fidelity on the splash screens at Kevin Werbach's Supernova 2008.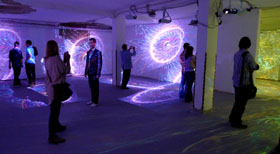 25 projectors and 5 channels of HD in Hungary, 2010.06.
Projection
To make a big splash at your event, why not consider including the moving abstract images of Dreams in High Fidelity or the Electric Sheep? Favorite events include evening occasions in which the sheep are projected on ceilings, on multiple walls, or in entranceways.
Draves is also available to display his work on your dancers and performance artists, on outdoor LED billboards and on flat-screen displays. As audiences and peformers move about in an area suffused with the patterned projections, they are transformed into otherworldly beings, immersed in the infinite.