Projection
Speaking
VJ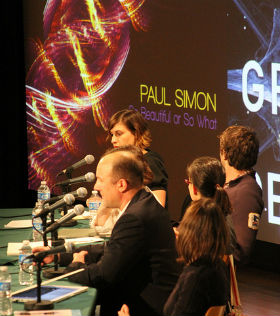 On a panel at the LiSA conference at the Guggenheim, NYC 2012.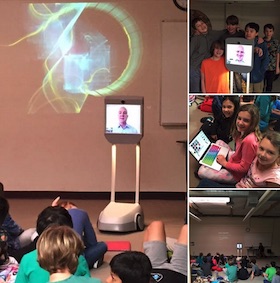 At Synapse School in Menlo Park, April 2015 (via robot avatar).
Scott Draves at SciPy in Austin, July 2015
Scott Draves at Gnomedex in Seattle, August 2010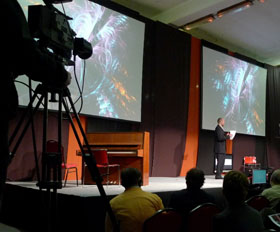 Scott Draves at TEDx in Hungary, June 2010.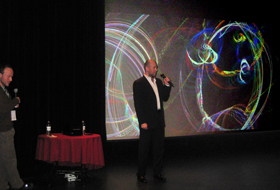 Scott Draves at Le Festival de Cinema des Trois Ameriques, Quebec City, Canada, March 2009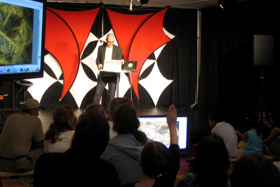 Scott Draves speaking at the World Science Festival in Manhattan, May 2008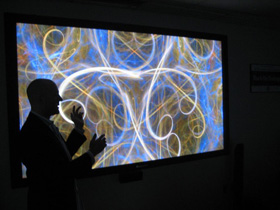 Scott Draves presenting "Dreams in High Fidelity" on a 103-inch plasma screen at Panasonic headquarters, March 2008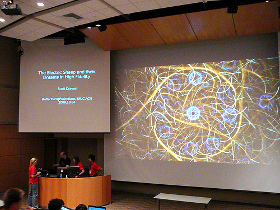 Invited speaker at UIUC ACM Reflections|Projections, October 2008
Speaking
Scott Draves is a frequent presenter at scientific, artistic, cultural and technology conferences and events. Draves' presentations combine his compelling visuals with the fascinating story of how they are made, by a cyborg mind made up of 350,000 computers and people.
Whether you're hosting a speaker series on evolution, mathematics, art, design, open source, collective intelligence, Web 2.0, or distributed computing, Scott Draves and the Electric Sheep will bring a unique visual experience and perspective on your topic.
Draves tailors his presentation for a variety of audiences ranging from contemporary art collectors and the general population to engineering professionals, university students, and even children. For more information, please contact us.
Highlights of Draves' speaking engagements:
2015.07 Presentation at SciPy Conference on scientific computing, Austin.
2015.04 Lecture and demo at the Synapse School, Menlo Park.
2012.10 Panel at the LiSA conference at the Guggenheim, NYC.
2010.08 Gnomedex, Seattle.
2009.08 Siggraph, moderated panel on DIY Media and Art, New Orleans.
2009.03 Festival de Cinema des Trois Ameriques, Quebec City.
2009.02 NYU ITP, New York City.
2008.10 UIUC Reflections|Projections, Urbana-Champaign.
2008.05 World Science Festival, New York City.
2006.09 Google Tech Talk, Mountain View.
2006.05 Keynote for ACM NPAR conference at Annecy Film Festival, France.
2006.03 Parsons School of Design, New York.
2005.11 San Francisco Art Institute.
2005.10 National Institute of Advanced Industrial Science and Technology, Tokyo.
2005.05 Berkeley Center for New Media.
2004.02 O'Reilly Emerging Technology Conference, San Diego.
2001.11 MIT Media Lab, Cambridge.
1997.04 Santa Fe Institute.
1995.05 Microsoft Research Labs, Seattle.