Projection
Speaking
VJ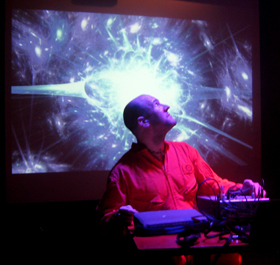 Live VJ performance at Le Cercle in Quebec City
Scott Draves VJs at the Rose Center for Earth and Space at the Museum of Natural History, New York.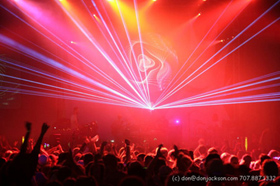 Techno Tribal dance at the Harmony Festival 2006, Santa Rosa CA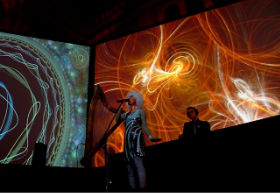 With Anna Pashinskaya and DJ Existence at Hybrid Art, Moscow 2010.
VJ Performance
Scott Draves has performed live under his nickname "Spot" at parties, festivals and nightclubs all over the world. He first projected his work at the legendary Beaux Arts Ball of Carnegie Mellon's College of Fine Art in 1995, and has seen audiences as large as the 30,000 people on the main dance floor at the Sonar Festival dancing to his work.
Spot's DVD "Spotworks" has been voted the number one DVD by VJ Central and has sold thousands of copies. It is used by VJs around the world. His tracks have also been published by LightRhythm Visuals, a label that represents the world's finest video jockeys.
When Spot performs, he draws from a number of the visual styles he's created. Any event featuring a DJ is a good place for a VJ as well. If you are interested in hiring Spot for your event, please contact us.
Some of the many venues where Draves has performed include:
2010.04 Hybrid Art, Moscow.
2009.03 Le Cercle, Quebec City, Canada.
2009.02 The Rose Center for Earth and Space, Museum of Natural History, NYC.
2007.02 Danger and Disorient Parties, Brooklyn.
2006.10 SFLNC Benefit, Supperclub, San Francisco.
2005.12 The Studio at the Palms, Los Vegas.
2005.02 Paul Graham's Focus Celebration, Boston.
2004.10 Synapse at Monroe's, Los Angeles.
2004.08 Camps Disorient, Sol System, Green Gorilla, and Planet Wow at Burning Man.
2004.05 Children of Sound at Volume, with Alladin Productions, Brooklyn.
2004.05 Ascension at 1015, San Francisco.
2003.11 Private Party at Warehouse 23, Boston.
2002.06 Sonar main stage, with Carl Cox as a guest of Bluespoon, Barcelona.
2000.04 Mozilla Party 3.0 at The Sound Factory, San Francisco.
1997.03 Shelter, with Derrick Carter, Chicago.