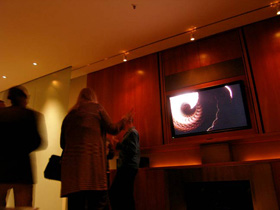 A private art show and the occasion of the project's first sale with Baxter & Cook Art Advisors.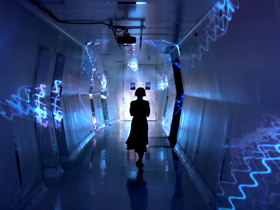 Video of show at the 3 Legged Dog Art and Technology Center in downtown Manhattan in July 2008. Photo by Mike Este.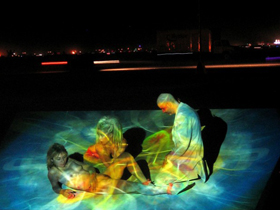 Projection onto performers at the Burning Man Festival.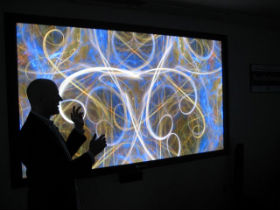 Draves speaks in front of a 103 inch plasma at Panasonic's Headquarters
Dreams in High Fidelity
Dreams in High Fidelity is an evolving painting that illustrates the unknowable boundary between machine and human design in Scott Draves' software art. The infinitely playing, non-looping animation features high-resolution clips hand-picked by Draves from the thousands produced by the artificial life form he created, the Electric Sheep.
Dreams in High Fidelity has seen installation in multiple forms, from outdoor projections for audiences of thousands to indoor flat-screen displays for an audience of one or two. The artwork, which plays back on a display like video art but never loops, is the result over a century of individual computer processing time. The achievement of this work would only have been possible through the kind of distributed processing network made up of tens of thousands of computers that Draves has harnessed over the past decade.
Dreams in High Fidelity is delivered on a self-contained computer with a database of 55 (HiFiDreams 1) or 100 (HiFiDreams 2) gigabytes of video in 1000 pieces that play in infinite, nonrepeating sequence. Like a wanderer in an English garden, the viewer is taken down one path after another, sometimes coming to the same intersection, other times finding hidden grottoes. It would take six months of continuous viewing to experience every path.
Available in editions of 4 from the artist.
Art for Public Spaces
Total immersion in Hi Fi Dreams is like swimming in a pool of light. The brilliant particles land on skin and clothing, changing their nature as they hit different colored surfaces, creating ripples on top of ripples as the viewer moves under the projection.
Projection onto the viewer or performers is a favorite installation for Dreams in High Fidelity. The video at middle left was taken at the 3 Legged Dog Art and Technology Center in downtown Manhattan in July 2008. To learn more, please see our projection page.